Here's a pretty poorly kept secret about myself: I'm obsessed with the show Parks and Rec. Leslie Knope is just the freaking best! I wish I had just half the energy she has and her gift-giving is epic. Leslie (this fictional character who I pretend is my best friend) famously invented Galentine's Day. What is Galentine's Day you ask?
Oh, it's only the best day of year! Every February 13, my lady friends and I leave our husbands and our boyfriends at home, and we just come and kick it, breakfast style. Ladies celebrating ladies.
And our culture has accepted it with open arms! So Mid-February each year is no longer the exclusive zone of the loved-up couples: it's for celebrating friendships too! Sure, Female Friendships, but as far as I'm concerned use this as an excuse to celebrate any kind of friendship that deserves celebrating. We're not excluding anyone!
Another brief story – stick with me! When I was in primary school my mum packed my lunch box every day. And because I was under 7 years old, I was a picky eater. Not particularly picky, but you know, I was a kid. I liked kid food. So there wasn't a huge amount of variety in my lunch box. But, on Valentine's Day one year my mother, bless her huge sappy heart, packed me a tupperware full of Lucky Charms. Pretty special lunch already but there's more! It only had heart shaped marshmallows in it. She had picked out all the other marshmallows, so that my Lucky Charms were no longer Leprechaun themed – they were LOVE themed! HOW CUTE IS THAT??? It's one of my happiest ever memories, and one of the reasons that I don't think Valentine's Day is for romance. It's for love. Pure and simple. Whoever you love, in whatever context, for whatever reason – celebrate it!
Valentine's Day is a time to show your loved ones (friends, romantic partners, family, whatever!) how much you care, and what better way to do that than with a homemade treat? Whether you're a seasoned baker or just starting out, our vegan baking kits make it easy to create delicious and eco-friendly desserts.
First up, we have our Raspberry Linzer Biscuit Baking Kit. These delicate and buttery biscuits are filled with a tangy raspberry jam, making them the perfect sweet treat for your Valentine.
Next, we have our Jammie Dodger Blondie Baking Kit. These blondies are soft, chewy, and packed with the sweet and fruity flavour of Jammie Dodgers. The perfect treat for a loved one with a sweet tooth.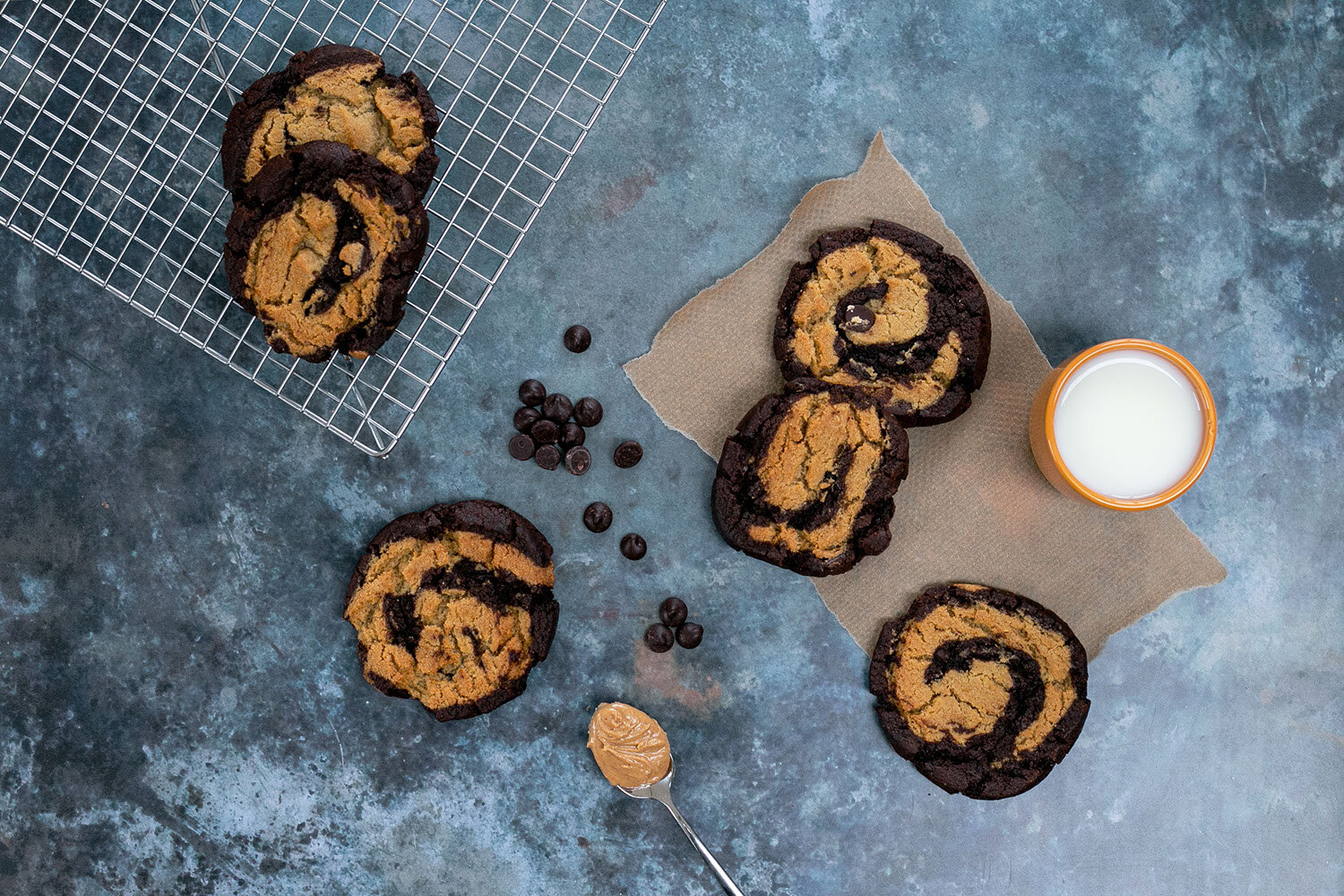 For the chocolate lovers, we have our Chocolate Peanut Butter Swirl Cookies Baking Kit. These cookies are rich, chocolatey and with a swirl of sweet and salty peanut butter, they are sure to be a hit.
All of my kits are vegan, so you can feel good about your sweet treats being kind to animals and the planet. Plus, I am now offering a baking subscription box, where you can receive a new recipe every month to try out at home. The February recipe is Rose and Pistachio Madeleines, which are delicate French cakes that are perfect for Valentine's Day.
Okay – maybe baking at home isn't for you. You just want to eat the sweet stuff, right? You just haven't got the time or the energy to do the baking yourself. I get it. And that's why I'm launching my all new Selection Boxes. You can order a selection of your favourite baked goods all ready to eat. These new products are landing just in time for Valentine's Day making them the perfect gift for the vegan in your life. Or, you know, just for yourself. There's only a limited number available so stay glued to my socials so you know just when to order.
Valentine's Day is about showing love to all the important people in our lives, and what better way to do that than by making sustainable treats for your loved ones. So, whether you're baking for a significant other, a friend, family member, or just for yourself, my vegan baking kits and subscription box have got you covered.
Happy Baking and Happy Valentine's Day!