Warmer weather is starting to come in, the shops are stacked with chocolate eggs, and the kids are home from school. So what's an activity that can bring all the family together, celebrate the season and make the most of spring time? Well, baking together, of course. Baking with my family is my favourite way to make memories together and to spend a few hours of screen-free time! Here are a whole bunch of easy and delicious ideas for family-friendly Easter bakes!
1. Mini Bunny Carrot Cakes
Your search for fun Easter recipes doesn't have to go any further than these cute little bunny-shaped cakes. Get the whole family baking with this super easy kit which comes with all the ingredients you need. You'll be baking memories in no time with these adorable Easter cakes.
2. Vegan Carrot Cake Muffins
Ok, these carrot muffins are really just an even easier version of the mini bunny cakes above. I've ditched the frosting and added raisins to make these a healthy(ish) Easter treat for breakfast. To say this is a family-friendly recipe is really an understatement; my 3-year-old loves making these pretty much by herself because they are that easy! If you're after easy Easter vegan baking, then you've found the answer right here.
3. No Bake Chocolate Nests
These nests are perfect Easter cookies all on their own. But they could also make a show-stopping topper for Easter cupcakes too! Pop one of these bad-boys on top of a chocolate cupcake and friends and family won't be able to stop cooing at your amazing holiday treats! Kids will love making these nests, and as they are no-bake they are a perfect family recipe that avoids the oven.
4. Hot Cross Bun French Toast
I don't know about you, but in my house Hot Cross Buns are a year-round permanence on my shopping list. We call them HCBs 🙂 But when Easter rolls around and the supermarkets are packed with all sorts of varieties of HCBs – we go a little over the top. But none of those buns have to go to waste with this terrific leftover recipe. Take Hot Cross buns that are past their best and turn them into french toast for a really special family Easter breakfast.
5. Unicorn Food Cookies
Bunnies get all the love this time of year, but we mustn't forget our pals the unicorns! Are these strictly Easter cookies? Not really. But I think the beautiful bright colours in these easy sugar cookies are perfect for springtime. This jar mix is super easy for anyone and you can get the whole family baking these easy Easter treats. There's no fiddly or messy cookie decorating – just scoff these chewy, delicious cookies straight out of the oven!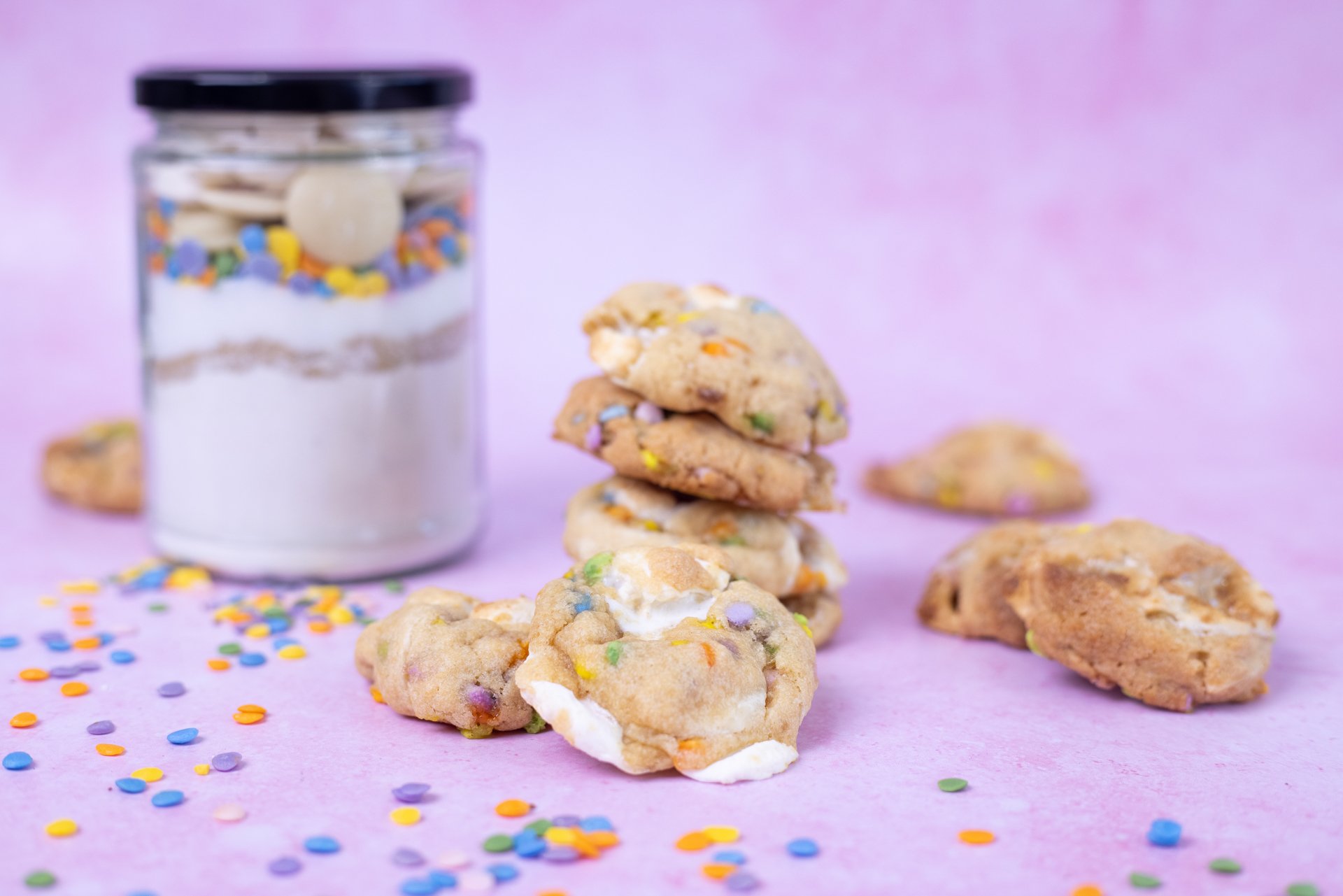 6. Lemon Blueberry Scones
If your kids are a little older and looking for a more sophisticated bake for Easter brunch or a tea party, then scones are a really good option. American-style scones stand up much better to all sorts of fruits and fillings than their British cousins. Lemon and blueberry is a great combo for spring baking and this recipe is certainly family-friendly.
7. Cinnamon Swirl Bunnies
Did you know that most ready-made pastry in the supermarkets is vegan? I'm always banging on about it – who needs to make pastry when there's a great vegan option just ready to go! Kids will love twisting strips of puff pastry into these adorable bunny shapes. You can use this recipe as a guide, but swap butter for margarine to make it vegan. I'm hopping off to make these with my family for some easy Easter treats… see ya!
Conclusion
There's no shortage of ideas for family-friendly recipes to try over the Easter break. Whether you're going cutesy with all the bunny shaped bakes, a little sophisticated with scones, or totally off piste with some Unicorn Food, all of these Easter baking treats are bound to create smiles around your home.
Explore my Easter Collection for more inspiration and to shop my easy, vegan, eco-friendly recipe kits. Happy Baking!